Polish hospitality in practice.
Are Poles' homes open to visitors and refugees seeking refuge? [REPORT]
Polish hospitality in practice. Are Poles' homes open to visitors and refugees seeking refuge?
76% of Poles consider themselves to be guests, and the results of the survey show that we really like to receive guests. Not only that, many people were able to selflessly open their homes to those fleeing the war in Ukraine. This attitude amazed almost the whole world and confirmed that as a nation we are ready to help in crisis situations.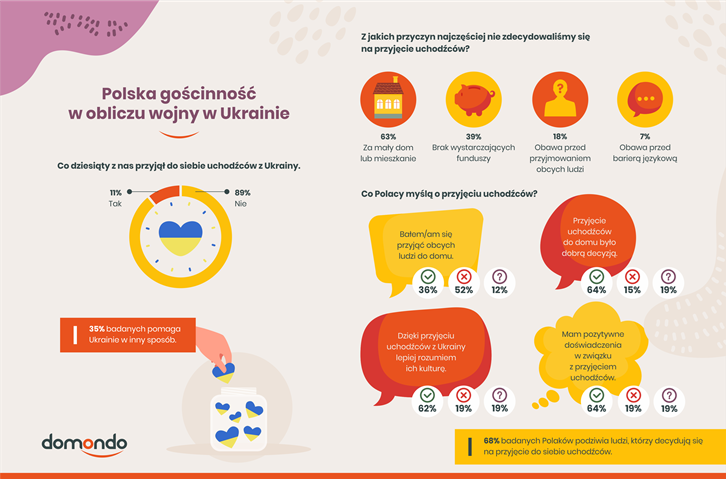 From the latest report prepared by the Domondo brand in cooperation with Elephate , you can find out how Polish hospitality is manifested and where we most often receive guests. The study also checked how many people took in Ukrainian refugees, how these people evaluate their decision in retrospect, and what prevented many of us from taking such a step.
Poles consider themselves hospitable - what does it actually mean?
As many as 87% of Poles believe that we are a hospitable nation, and more than of the respondents attribute this character trait to themselves. When asked to define hospitality, study participants repeatedly repeated concepts such as openness and selflessness. It is perceived in a similar way by the cultural anthropologist, Dr. Inga B. Kuźma, prof. UŁ:
Researcher Adam Pisarek wrote in 2014 that in Polish culture hospitality is understood as: cordiality, kindness and disinterestedness. It can be added that it means preparing food, taking care of the guest to spend a nice time, and sometimes also spending the night. Of course, not everyone and not always. However, more or less such features are attributed to the so-called Polish hospitality. These features refer to patterns from the old times, cared for, for example, in old noble manors.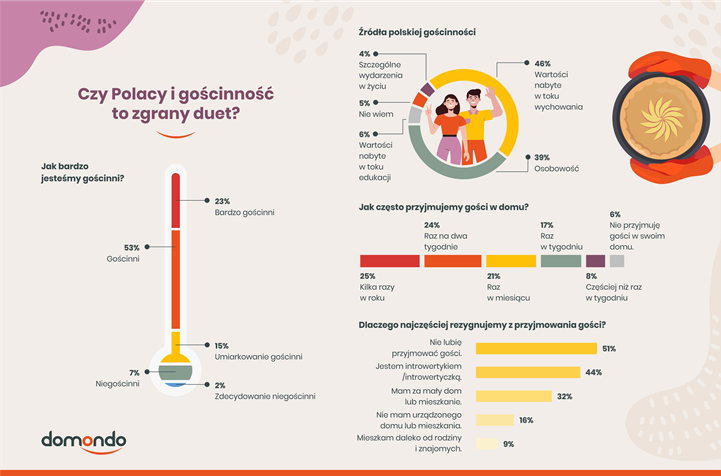 How do we receive guests in our homes and apartments?
The frequency with which we receive guests varies - 25% of the respondents do it at least once a week, exactly the same percentage several times a year, 24% on average once every 2 weeks, and 21% once a month. For 86% of respondents, the most common place to receive guests is the living room, although sometimes it is also a kitchen, and in good weather, a garden or terrace (each of these options was indicated by 17% of respondents).
Poles treat guests' visits seriously, and most of the hosts prepare for it properly - 79% of respondents clean the apartment earlier, and 71% prepare a meal. Every third person prepares a place to sleep in advance, if an overnight stay is planned. In addition, 15% of respondents dress up in a festive manner before visiting them, and 11% take care of appropriate decorations, e.g. light candles or buy fresh flowers. To set the boundary of privacy, 27% of respondents close the doors to certain rooms (especially bedrooms) from guests.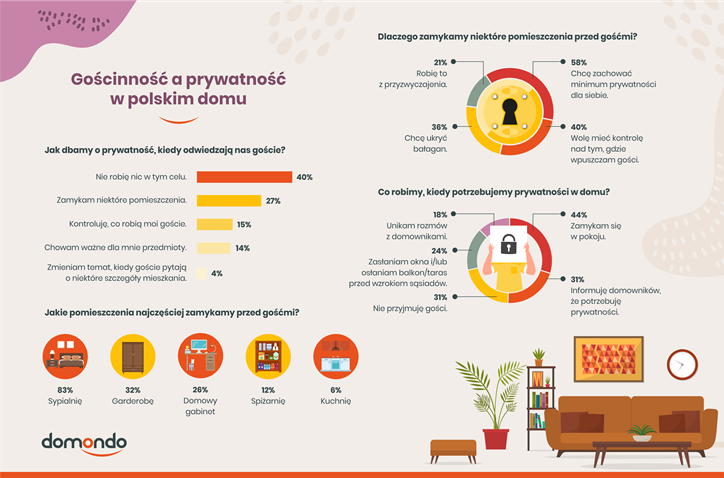 Too small apartment is the most common reason for not accepting refugees
Due to the outbreak of the war in Ukraine in February 2022, Poles rushed to the aid of their eastern neighbors. The support often went beyond the collection of food, clothing or money - almost 11% of our survey participants declared that they had accepted refugees from Ukraine into their home. Out of this group of Poles, 65% believe it was a good decision in retrospect. There are also many people who have negative experiences related to receiving refugees - but only 18% of Poles who opened the door to those fleeing the war are mentioned.
However, not everyone could afford to place additional people under their roof. The main reason for not accepting refugees was the small size of the apartment (indicated by as many as 63% of respondents), which meant that Poles would not be able to provide their guests with comfortable conditions. Moreover, the respondents argued it with the lack of funds for such a large scope of assistance (39%), the choice of other forms of support for Ukrainians (35%), reluctance to accept strangers at home (18%), and to the least extent - fear of a language barrier (7%). ).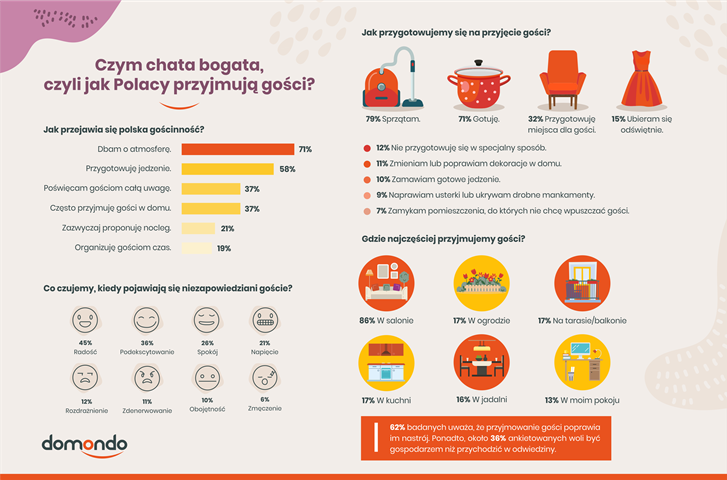 Full report "Polish hospitality from the kitchen, or how willingly we open our homes to others?" is available at domondo.pl